Building Communities Online
14th September 2006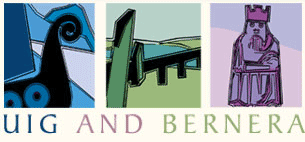 BUILDING a new home on the world wide web, the community of Uig and Bernera have joined the increasing number of rural groups making their mark on the internet with the set up of their very own website. Aiming to promote the area across the borders of cyberspace and to give residents a place of their own online, uigandbernera.com is another step forward for this forward-thinking community.
Built by Stornoway based Reefnet for the Uig and Bernera Development Group (UBDG), the establishment of the website is, however, only the beginning with plans already underway to further develop and diversify the resource to include details of all local community groups and a specific Gaelic section.
Explaining that the set up of a website was first identified in the UBDG development plan, which was originally the Iomairt Aig An Oir steering group, Development Officer Gillian Dykes said: "The set up of uigandbernera.com aims to contribute both to the economic wellbeing of the area as whole and to the individual businesses in the area. The site will also build community capacity and cohesion by improving communications about everything that is happening in the area." She added that the new online home could open people's eyes to what potential lies within their own community: "The website also aims to improve local knowledge of all the skills and services within the area, for example we have people in Uig who are self employed with many different skills ranging from IT and media to construction, decoration, croftting and childcare - people do not realise what is on their doorstep."
And of course promoting the area as an ideal holiday location, those behind the site are hoping it will also attract more and more visitors as Gillian continued: "We hope it will attract additional tourists to the area by ranking high for all 'Western Isles' and other appropriate holiday related searches, ultimately bringing economic and social benefits to Uig and Bernera by increasing the number of visitors to the area and encouraging them to stay for longer, and by promoting inclusion, cohesion, actvity and communication within the community itself."
As a resource created for the people of Uig and Bernera, UBDG also made the decision that it should be designed locally by those with a strong connection to the area, with Anne Macaulay from Reefnet being just the lady for the job.
Anne explained why involvement in this particular project had been so special to her: "We worked with Gillian Dykes in 2001 and 2002 to produce the Visit Hebrides sites. That project was a great success and we built up a fantastic working relationship with Gillian. We were delighted to be working on this new community website for Uig and Bernera as Gillian is such a consciencious client and my parents are both from Uig so it was really important to us to do a great job. Describing the work that went in to creating the website, she added: "The site took a few months to build, it incorporates a full content management system which allows different community groups to update their own sections and gives project staff full control. It also features a discussion forum, photo gallery and events imported from external sources. We feel community websites help give a sense of identity to a community and then represent that community to a wider world. It keeps the locals informed and involved in what's going on locally as well as letting people who have moved away from the community see what's going on back home. Projects like this and hebrides.tv shows that the Hebrides is taking the notion of community and extending it beyond geographical boundaries."
And with their new web portal now up and running with all to see, UBDG are now looking to the future and are also hoping to get some feedback from the community.
Gillian concluded: "We also hope to have a phase 2 if we can raise the funding - which will involve translating a good part of the site in to Gaelic, and perhaps summarise in other key European languages too and also further search engine optimization and marketing. We welcome suggestions for content, photos etc and we are dependent on the support of local businesses and agencies to cover costs of ongoing maintenance and development. And anyone is interested in having a link on the site can get in touch with me on 01851 672748."
Funding for uigandbernera.com came from Awards for All Scotland, Comhairle nan Eilean Siar Business Advantage, Initiative at the Edge, the Rural Challenge Fund, Better Neighbourhood Services Fund and the support of local businesses and agencies who have paid for listings and web pages within the site.