A Lewis web design company wins young start-up business award
4th April 2002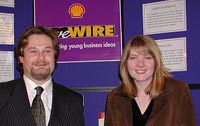 ReefNet, a web design and development company have won the £1,000 first prize at the regional final of the 2002 Shell LiveWIRE Young Business Start Up Awards, which are supported locally by Comhairle Nan Eilean Siar and Highlands and Islands Enterprise.
ReefNet is a partnership company owned by Alex Tearse (29) and Anne Buchanan (28) and operated from Anne's home in Aignish, Point, in Lewis.
Alex and Ann set up 'ReefNet' in April of last year and they have had a great deal of success since then, exceeding their expectations in volume of work, reputation and cashflow. Reef Net's core services include web page design and development, database driven sites and e-commerce solutions, web-based interfaces, server-side programming, marketing advice and training.
To win, ReefNet outshone five other young entrepreneurs from Back, Leurbost, Maryhill, and Barvas, in Lewis, and Castlebay in Barra. All the finalists started up their own businesses within the past eighteen months. Alex and Anne will now represent the Western Isles at the Scottish Shell LiveWIRE Finals, to be held on 23 April at Dynamic Earth in Edinburgh.
Commenting on their success, Alex Tearse said, "We are delighted, and this award is great recognition of what has been a successful first year for ReefNet".
The four-person judging panel was chaired by Lochmaddy Councillor Donald Maclean, who is also Chairman of the Comhairle's Development Services Committee. They scrutinised each finalist's Business Plan in advance and conducted interviews on the day, to assess individual business acumen, potential and long-term business viability.
Congratulating Alex and Anne on their win, Mr. Maclean said: "The judges were particularly impressed with Alex and Anne of ReefNet, true LiveWIRES in every sense of the word. All the judges agreed that their business has real potential to succeed in the long term. The calibre of all this year's finalists was excellent and this made our task as a Panel especially difficult. At the end of the day that has to be good news for the Western Isles".
Mr. Maclean also extended his thanks to the three other members of the judging panel who comprised: Donald Macdonald, Business Manager at the Bank of Scotland; Duncan Mackay, Autohire/Motoquip (himself a former LiveWIRE winner) and Mairi Thomson, E-Business Adviser, Western Isles Enterprise.
The second prize of £800 went to Spotless Cleaning, and the 3rd prize of £500 was awarded to Thistle Spa. Three additional merit prizes of £400 were presented to Lochside Salon, Croft Recordings and Merlin Welding. The awards were presented by Comhairle Nan Eilean Siar Convener, Alex A. Macdonald.