Out of the ashes - ReefNet launches to provide services to new e-business starts
10th May 2001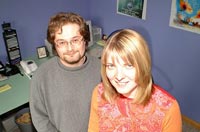 For many people the 'mad march' season can be a traumatic time as companies 'downsize' and 'rationalise' their work forces in time for a new financial year. However, sometimes out of the ashes something new and positive emerges.
When Stornoway-based Eolas Media announced last month that it was to refocus on the television side of its operation and close its New Media department, some of the staff faced a difficult choice. The New Media department was responsible for producing web sites, interactive 3D (virtual reality) applications, presentations and computer graphics and had recently won a Scottish Bafta award. For Alex Tearse and Anne Buchanan, two of the core developers behind past Eolas New Media successes, the time was right to go it alone and ReefNet was born.
ReefNet started trading at the beginning of the month, and already have a full order book with more work on the way. With growing recognition of the importance of new technologies in business and strong support from local enterprise companies and the council, things look bright for Hebridean e-business.
ReefNet specialise in providing services to e-business start-ups or to existing businesses moving to trading online.
Alex Tearse explains
"when any new business starts one of the first tasks is to find a good accountant to advise on general business and financial matters. For e-businesses, the next task would be to find an Internet Service Provider who not only builds web pages and hosts sites, but who can understand your business and help to guide you through and evaluate the many technologies and choices the world of e-business has to offer. That's where ReefNet come in."
Anne Buchanan feels that ReefNet are ideally placed to capitalise on the Web's expected 'second wave', as more businesses are encouraged to start trading online through government initiatives and business advisers.
"ReefNet already have a strong reputation in this field, with a large body of work behind us and a very loyal customer base. When we looked at starting the business we quickly realised that we have a lot of experience in the industry dealing with everything from small guesthouses and non-profit organisations to major blue-chip companies. We feel confident that we can pass on that knowledge and experience to our clients.", said ReefNet partner Anne Buchanan.
ReefNet's core services include web page design and development, database-driven web sites, e-commerce solutions, web-based interfaces, server-side programming, marketing advice and training.