Young Western Isles Business continues with Entrepreneurial Success
12th September 2002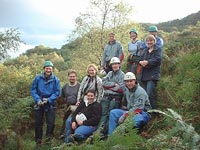 Following hot on the heels of his success of winning the prestigious title of Shell LiveWIRE Young Entrepreneur of the Year for the Western Isles in April, 29 year old Alex Tearse, will soon be competing for another national business award.
Isle of Lewis based Alex has won his way through to the Shell LiveWIRE Business Growth Challenge 'Champion of Champions' final in November 2002.
Alex completed the Royal Bank of Scotland sponsored Business Growth Challenge along with around sixteen other young businesses from across Scotland and has been invited to compete for the £1000 prize and the title 'Champion of Champions' later this year.
His company, called Reefnet, was set-up in May 2001 by Alex and business partner, Anne Buchanan, 28, to provide advice and services for internet and e-business needs.
Alex Tearse said, "The Business Growth Challenge is a tremendous opportunity to learn about your own personal skills, to develop new ones and to meet other likeminded business people and hopefully learn from them too."
Duncan Robbie, Director Scotland for Shell LiveWIRE said, "The Business Growth Challenge is specifically for young Scottish businesses and aims to develop their management and leadership skills - to be quite honest it's about having a huge amount of fun too and meeting other young people all determined to make their businesses a success."
Richard McCarron from The Royal Bank of Scotland said, "There are numerous areas of business activity that are essential for any business, and personal development and training is just one of them. Its often very difficult for young and small businesses to attend high quality training courses however the Business Growth Challenge provides that opportunity to learn new skills as well has having a lot of fun and meeting other likeminded young people."
The Business Growth Challenge, now in its 11th successful year, runs eight weekends during the spring and autumn where young entrepreneurs learn how to expand their businesses through developing people skills and leadership qualities. Working in teams, the aim is to complete a series of tasks which could involve anything from creating a marketing strategy to designing and building a bridge outdoors.
The Business Growth Challenge is set in scenic Argyll and is completely free. Each weekend includes accommodation, meals, travel expenses and is open to young business people aged 16 - 32 from all over Scotland.
Spaces on the October Business Growth Challenge are still available to young entrepreneurs across Scotland - for further information contact 0131-524-9545